Status:

Completed

Client:

Confiared/Confiabits

Location:

Santa cruz, Bolivia
We don't just use existing technologies. Us custom needs (customs needs, different target, different limitation, ...), then we need research and development, is the process by which a company works to obtain new knowledge that it might use to create new technology, products, services, or systems that it will either use or sell.
In this workshop we need good electric part, with all security, few and lot of power, stabilized power supply. Arduino to control electric pannel, individual circuit.
Microscope (numeric + 22" screen), extractor hood for chemistry, lot need to do lithography (include laser to do direct lithography), and to check it.
All to test server from serial port to connectivity part like Ethernet, SPF, SFP+.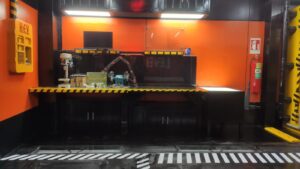 Lot of storage capacity to store tools, products, inputs... the storage destined to machine is with Ethernet port to control via internet, individual protection, internal lights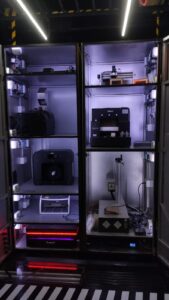 All commodities, wifi, basic to eat, listen music working, air conditioner, air extracting, urgency kit
And the style is space ship, lot of geek details, lights presets (white mode, red mode) with gradual power up.